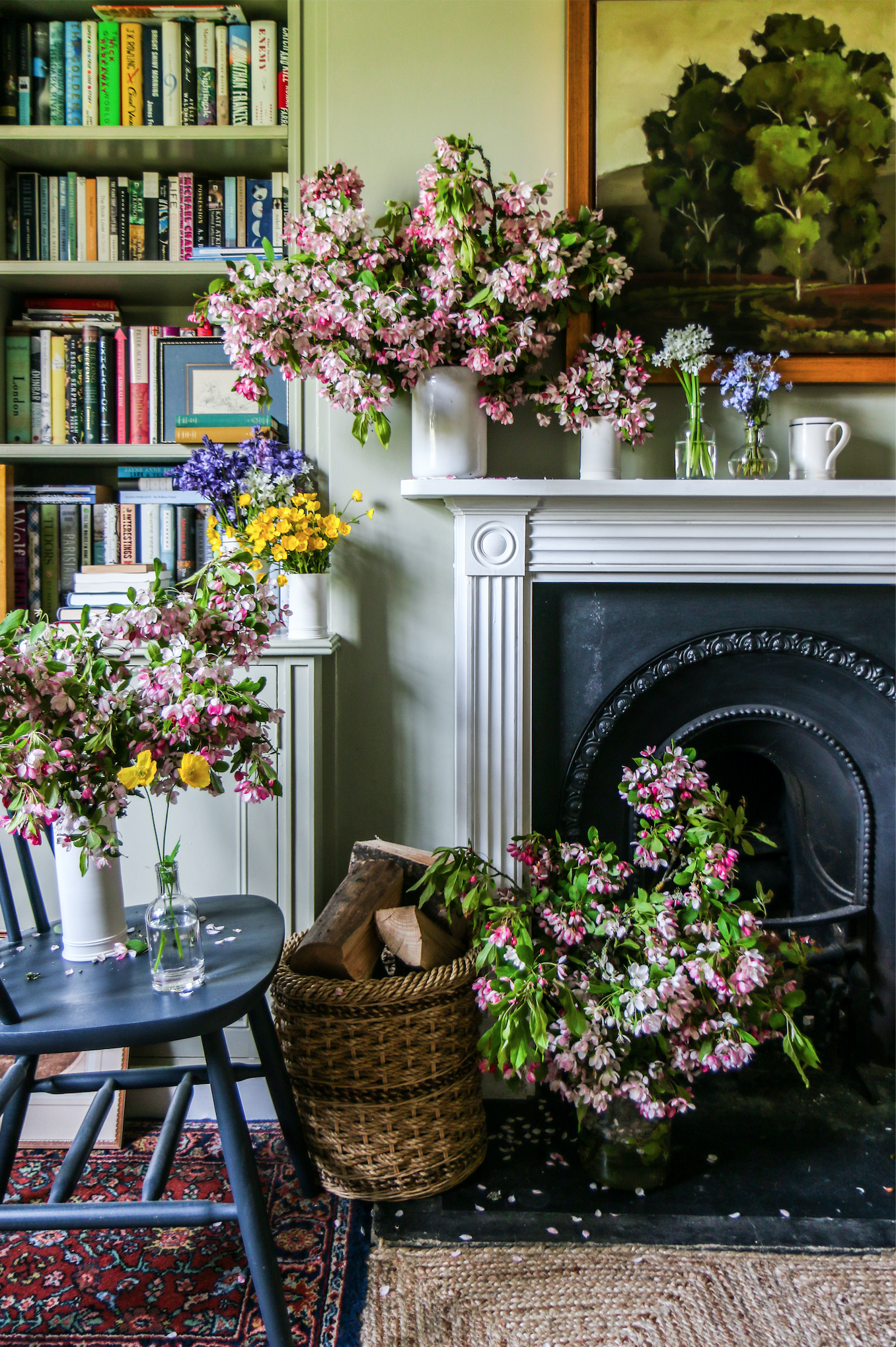 There's just something about British design, isn't there? I'm far from an expert and of course it isn't a monolith, but to me it's about color, pattern, coziness, and a certain unstudied effortlessness…rattan, chintz, and stripes…rich history, touches of whimsy, brown furniture…brass beds, scalloped lampshades… it's just everything I love at the moment. My Instagram feed has slowly but surely been fully taken over by British designers these days, and in the process I've started becoming familiar with a lot of wonderful British design brands. Here are some favorites who I wish would hop across the pond and open stores in NYC!
I discovered Pooky Lighting on Instagram through Louise Roe and I love their stuff! They have lamps of all types as well as a huge variety of patterned, scalloped, and pleated lampshades, so you can really mix and match and make something unique. The big draw for me is that they have the only rechargeable lamps I think I've ever found that I like. Rechargeable lamps are awesome – for a bookshelf, a hallway, a side table floating in the middle of a room, a mantel…just about anywhere where you might not have access to a plug or you don't want the cords around. Why there aren't many more nice rechargeable lamps floating around out there on the Internet, I do not understand. A hole in the market, rife with opportunity! But anyway, Pooky is great. I got their Phileas rechargeable lamp and matched it with one of their cream pleated lampshades, and I'm just so in love. It's exactly what I needed in my hallway where there are no plugs, and the petite size fits perfectly on my little antique bookshelf.
Matilda Goad has this wonderfully colorful, whimsical, quintessentially British style, and it's just happy and fun. She's best known for her signature scallop lampshades, but she also has super pretty candles, lovely ceramic pieces, colorful planters, and much more. I wish I had need of an ice bucket because I seriously love this rainbow one. 
I am head over heels in love with Sarah K. Designs! They have the prettiest bedding and I can't get enough of it – it's perfect to mix and match. I purchased their pink ditsy duvet and pillowcases and I LOVE them. I've always had a thing for ditsy florals and so I jumped at these the minute I saw them (after impatiently waiting for weeks for them to come back in stock). Their bedding has shown up on the beds of Louise Roe and Tessa Foley, two of my favs, and I'm pleased to report it's just as great in person as it looked online. It's really comfy and beautiful, and the ruffles make me so happy! I have a US full size bed and duvet cover, and the UK King fits perfectly. In addition to the wide variety of bed linens – some patterned, some more simple, some scalloped – they also have other home, bath, and dining items that are just as pretty.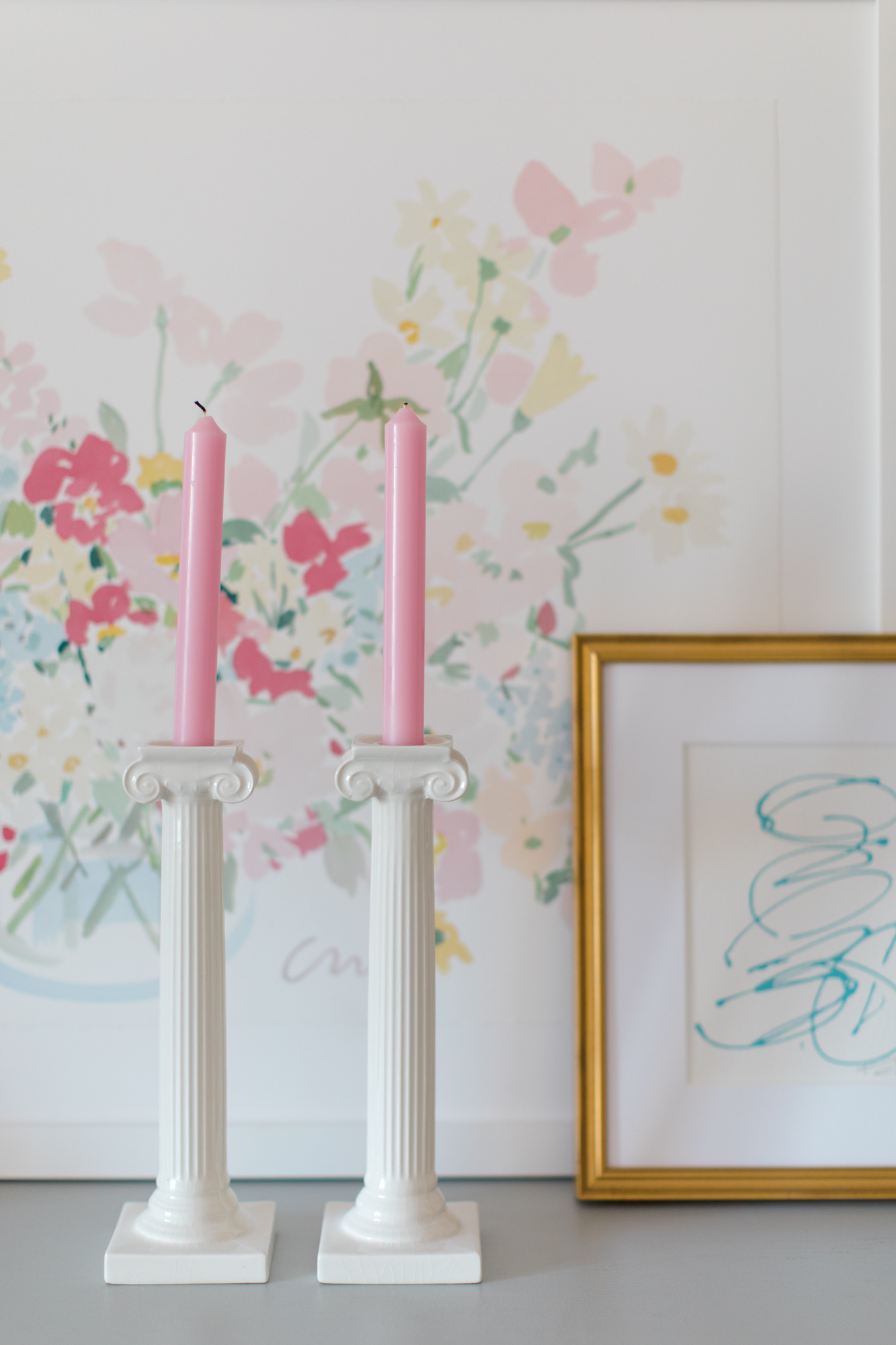 Absolutely in love with this charming shop, founded in 2008 by the super talented British designer Ben Pentreath and amazing decorative artist Bridie Hall. I was lucky enough to be able to visit the shop when I was in London a million years ago and I am dying to go back! It's such a lovely little place and happens to be located on the most charming hidden away street. Recently I finally splurged on his Ionic Column candlesticks – I'd been eyeing them for the longest time and I'm so glad I finally took the plunge. They're even more wonderful in person than I was expecting! They appear to be out of stock or just not on the site anymore, which is devastating, but they still have a lot of other really pretty candlesticks and colored candles available. The Alphabet Brush Pots are a signature item and they also have a wide selection of paper goods, lampshades, tableware, and even furniture. I wish we had a store like this in the US!
I talked about Candle Flair in a recent post but just have to give them another shout out. I LOVE their beautiful candles – the colors, the shapes…cannot get enough.
This is Louise Roe's homewares company so you know I'm a total fangirl. She created really beautiful rattan pieces with scallops and lots of lovely little details, and they're just so charming and versatile. Every room can benefit from a touch of rattan! She's also selling antiques on the site. Right now there are a variety of antique wooden chairs with cushions made out of pretty fabrics from UK favs like Soane Britain, Penny Morrison, Veere Grenney, and others. One or two of these chairs would add so much character to any space.
I've been obsessed with The Lacquer Company for a while now and the only reason I haven't yet taken the plunge on one of their signature Belles Rives trays is because I can't pick a color – they're all too good! I've seen them in person at KRB and they're just soaked in amazing lacquer color – truly even more stunning than expected. They also have lamps, mirrors, furniture, desk accessories and more.
In recent years I've learned the power of a striking lampshade, and Hum London is a great resource. Founded by two sisters during lockdown, Hum London does whimsical, colorful hand-painted lampshades in a variety of fun, eye-catching designs. Each lampshade is one of a kind and would add such personality to any lamp!
Textiles:
No surprises here – I've become a huge fan of Penny Morrison and Soane Britain, and hope to incorporate fabrics from these companies into my new apartment! I'm also thinking of using Veere Grenney's Folly on my dining chairs. It reminds me of a fabric my Mom used in our house growing up and I really love it!