Lately I've become enamored by twisted taper candles. Maybe I just didn't notice them before, but it feels like they suddenly popped up out of nowhere and now I'm seeing them constantly. They're so fun! I think they just add a perfect touch of whimsy and special detail to any room (as my favorite design book, The Perfectly Imperfect Home, says – every room needs a touch of whimsy!). I've always loved colored tapers and now I just can't get enough of twisted ones – and colored, twisted ones of course. 
My favorites that I've found so far are from the UK based brand Candle Flair. I found them through (who else) Louise Roe, my design role model/goddess. The ones in my home above are the Ribbon Candle in Ivory, and I am just in love with them. Most of the twisted candles I'd seen prior to these were tightly twisted (which I also like), but these have this elegant, loose movement to them – they make me think of ink under water (weird reference, perhaps). I also love their Swirl Candle, which is another loosely twisted version that I got in blush pink. Both are pretty tall (11 inches), so I went onto Etsy to find some more squat/petite candleholders to pair with them. I'm kind of obsessed with these vintage brass ones that I found, aren't they fantastic?! And they're embossed on the bottom with Made in England – which you know makes me happy as I am a diehard devotee of all things British design! (if you like them, there's actually a similar pair here). 
Next in my cart to get from Candle Flair: their Twist and Spiral candles. I thought I just wanted the loosely twisted ones but now I want them all, lol. I also think it's good to have both because the Twist and Spiral versions are 8 inches vs. the Swirl and Ribbon which are 11 inches – so you have some versatility in terms of which candle holders you want to use to display which tapers. I'm also thinking of getting a few of their Tulip candle holders.
These candles from Candle Flair, besides being gorgeous, would make such a lovely gift. I was actually surprised to see that they came in this really elegant and high quality packaging and I could just picture a box of these in the dining room sideboard of someone really chic, waiting to be lit at all of their fabulous, cozy dinner parties. Ok I just made up a whole little story in my imagination which is possibly weird, but trust me, the packaging is truly lovely – these would be such a nice hostess or housewarming gift. I think I'm starting to like taper candles and candlesticks even more than regular candles, if you can believe it! They just create such a nice ambiance and I also like the height they add to any vignette. They're great for a coffee table, mantel of course, dresser, desk or side table. 
Now my only problem is going to be bringing myself to actually burn these – they're just too pretty! Pro tip though – make sure if you're photographing tapers you light the candle even for just a few seconds, to get the wick burned – it's a styling faux pas to have unburnt wicks, I've learned ;). 
If you're looking for twisted candlesticks, here are some other fun options I've found!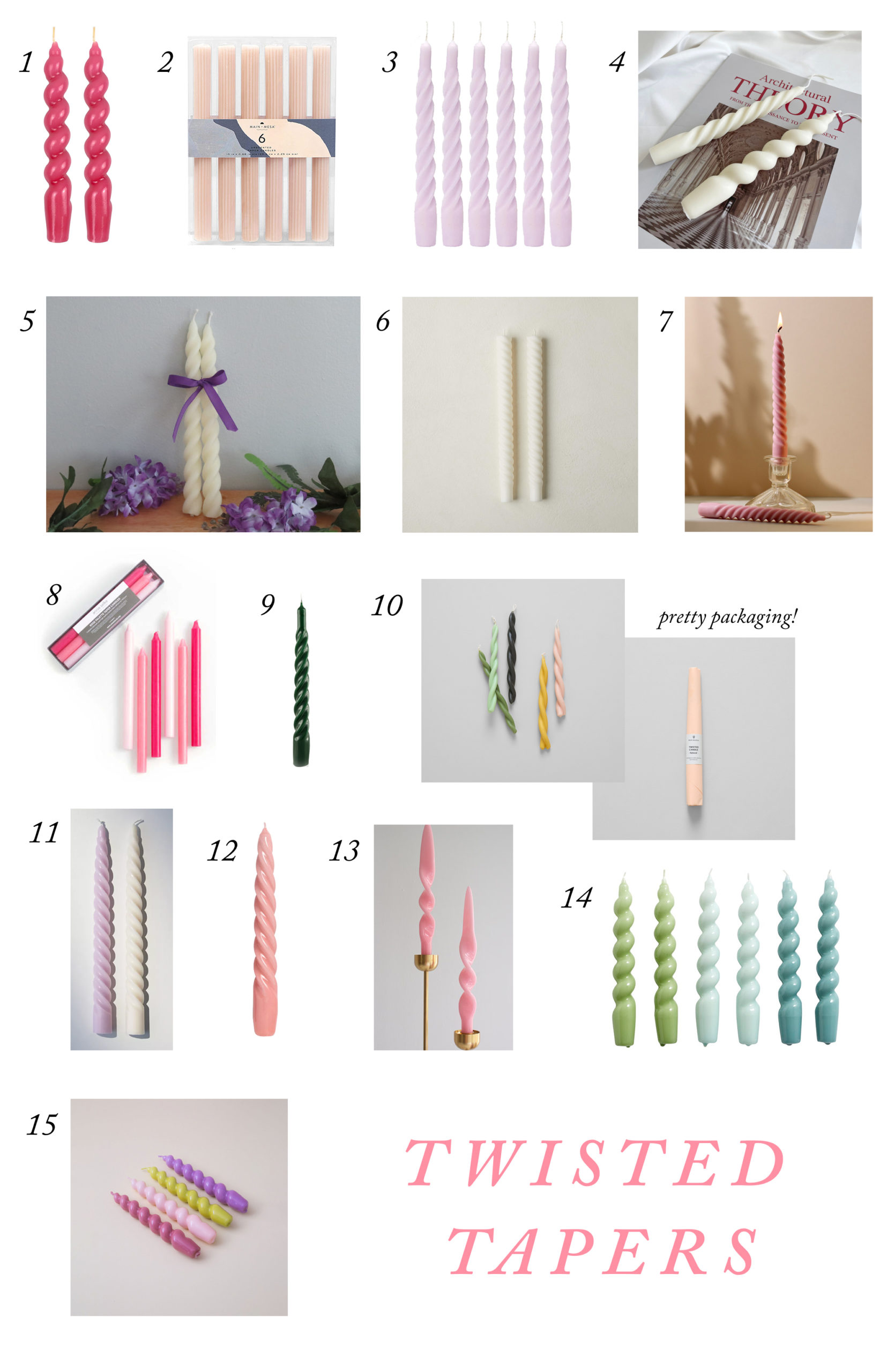 one // two // three // four // five // six // seven // eight (ok I know these aren't twists but I just love the fun colors, couldn't resist!) // nine // ten // eleven // twelve // thirteen // fourteen // fifteen
I'm going to put together a post soon with some favorite candlestick holders, because I keep seeing nice ones on Etsy since I was searching for them (their algorithm seems to be pretty good). Thanks for reading!