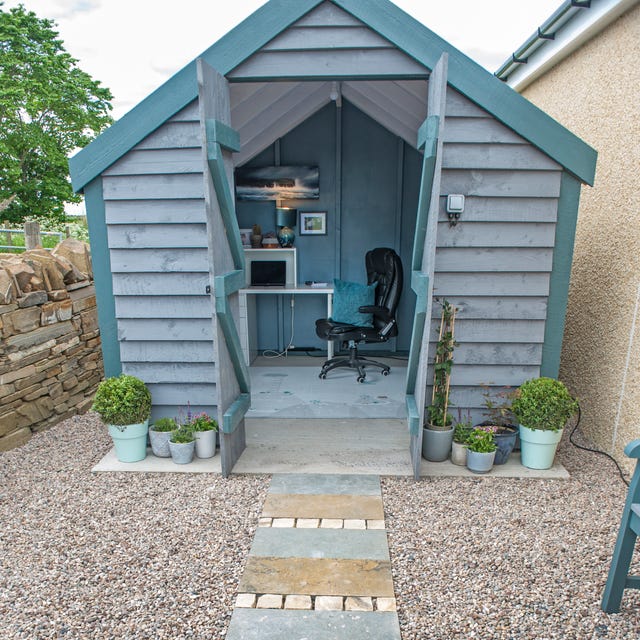 Mike Brookes-Roper/PinPep
Wickes has unveiled the finalists of its Home Office Awards 2021, crowning a sensational garden shed office from Scotland as the overall winner.
Claire Hughes, based in Caithness, wowed judges with her impressive and super stylish shed, which she built from scratch during lockdown. Without anywhere sturdy enough to store toys, Claire set herself the challenge of creating a shed from scratch — and it's now the ultimate sanctuary.
"With the help of a friend, I designed and built the shed, which turned out to be the perfect room for home working and has become a sanctuary of peace and quiet for the family," Claire said, speaking about the design. "It was hard work so to be recognised for that is incredible, especially from a company that sees a lot of sheds!"
Claire was awarded the shortlist winner Sensational Shed, before being championed by judges as the overall winner for the Wickes Home Office Awards 2021.
Speaking about Claire's design, judge and TV presenter Phil Spencer said: "The office made excellent use of space, combining design and practicality to create the perfect workspace. The addition of plants and a large, glamorous desk helped to elevate this simple shed to an award-winning home office. Looking at property value, home offices are far more sought after than they used to be, and I'm sure this style of outhouse office will help to add value to Claire's home."
To celebrate the launch of their new Fitted Home Office range, Wickes wanted to find the best home working spaces around the country. The five shortlist awards — Minimalist Master, Best Interior and Mindful Design Award, Cleaning up in the Dining Room, The Sensational Shed and The Savviest Set Up — uncovered the best of British talent.
"It was amazing to see the different ways the nation have set up working from home spaces, and after the challenges of this past year, every person who entered deserves a prize," Ben Hillman, who joined Phil on the panel, adds. "The range of winners has really shown what is possible with different spaces and budgets to create a practical and stylish space within the home, or garden."
Looking for some inspiration? Take a look the finalists below…
Katy Stevens' home office cupboard transformation
Danj Handa's alcove home office
Jenni Griffi's impressive space
Ria Roe's conservatory workspace
This content is created and maintained by a third party, and imported onto this page to help users provide their email addresses. You may be able to find more information about this and similar content at piano.io