New Mexico Governor Michelle Lujan Grisham outlined plans for a two-week "reset" period to alleviate strain on the state's health care system caused by a surge of COVID-19 on Friday.
Grisham said that the order would take effect on Monday. Residents will be instructed to only leave home to take part in essential activities. Gatherings will be limited to no more than five people, with capacity at grocery stores and other essential businesses reduced to 25 percent. Plans for large celebrations on Thanksgiving, which falls within the two-week period, should be called off, the governor said.
"The rate of spread and the emergency within our state hospitals are clear indicators that we cannot sustain the current situation without significant interventions to modify individual behavior," Grisham said in a statement. "There are simple steps each of us can and must take. Stay at home. Wear your mask if you must go out. Do not gather with non-household members. Wash or sanitize your hands frequently."
"Make plans for a different kind of Thanksgiving — one without non-household members," she added. "Please, take every necessary precaution to protect yourself, your family, your community and your state. If we do that, we will be able to resume more day-to-day activities soon, and more importantly we will save the lives of hundreds of New Mexicans."
Grisham said that although she had hoped that the state's strategy of "targeted crackdowns" could "slow the spread and relieve our hospitals," New Mexico's record levels of new COVID-19 cases, hospitalizations and deaths had made it clear that more aggressive, enforced public health restrictions were needed.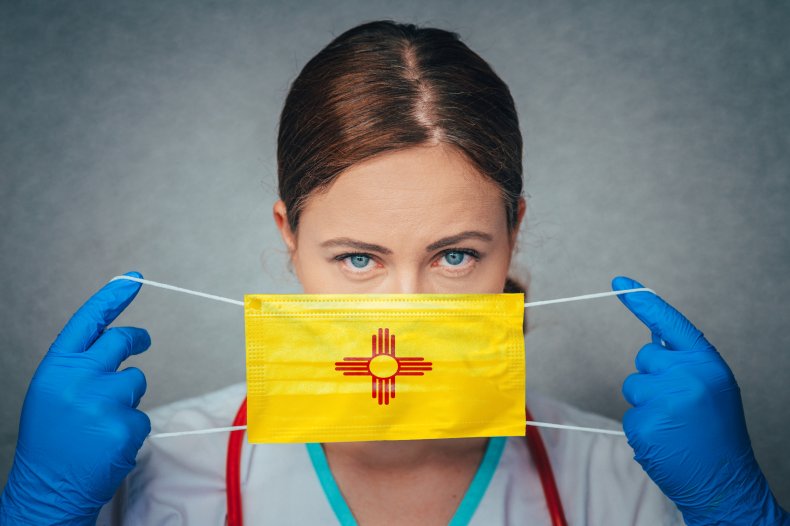 Essential businesses including grocery stores, pharmacies, hardware stores, childcare facilities and medical offices will be allowed to remain open during the two-week period. Essential businesses identified as "retail spaces" will be subject to capacity limits and must close by 10 p.m. or earlier. Restaurants will be open for curbside pickup and delivery services only, while bars and entertainment venues must be closed. Businesses who violate the order will be liable for a $5,000 per day fine.
The state reports that there have been over 62,000 cases of the virus, including nearly 1,200 deaths, since the pandemic began. New cases have been surging, reaching levels that far exceed state guidelines for safe reopening and hitting an all-time high of more than 1,700 cases on Thursday. A record 182 deaths were caused by the virus over two weeks, while hospitalizations increased by 214 percent over four weeks.
"More aggressive restrictions are not only warranted but essential if we are to prevent mass casualties," Grisham said. "Without the compliance and cooperation of New Mexicans statewide, we do not need to imagine the bleak public health calamity we will face — the images from El Paso the last few weeks, from New York City earlier this year, and from Europe at the outset of the pandemic will be our fate in New Mexico. But we can prevent this."
New public health restrictions have been issued in multiple states as cases of the virus continue to rise throughout the nation. Oregon Governor Kate Brown announced a two-week partial lockdown on Friday, set to begin on Wednesday. A more limited set of restrictions will be implemented on Sunday in Virginia, while governors and health officials in several other states have indicated that they may also be imposing new restrictions soon.
There have been well over 100,000 new COVID-19 cases reported each day in the U.S. for more than a week, with a 7-day average exceeding 130,000 new cases per day. Total cases have eclipsed 10.5 million, with deaths close to 243,000, according to Johns Hopkins University.